Happy Happy Friday, Friends!!
Earlier last month, I blogged on Hope From Exodus and Grace and Faith, which was part of the Bible study plan called, She Reads Truth: Fresh Start.
If you are not part of the She Reads Truth community and would like to be,
Check It Out Here!
These women are doing some great things through social media and the blog community. Currently, the ongoing study this month is called Soul Detox.
She Reads Truth is an online movement of women committed to daily reading and being changed by God's Word. Each day you can follow the links to She Reads Truth, to interact with other women, share your thoughts and comments, memorize scripture, and be encouraged to keep reading. Please feel free to join the group on Instagram and Twitter by using the hashtag #SheReadsTruth to share your daily insights, too!
Last month I found one particular devotion from
She Reads Truth
, so imperatively simple, yet wonderful that I thought it was best to share it with you all through a post today. I found my notes earlier this morning and it just really hit the nail on the head for me. Reading this word and finding my old notes from the Lord was such a beautiful start to my day. Through reflection and redemption, I praise the Creator and would like to share a part of my heart with you.
When it comes to eternal life I am sure that often times we have questions that can not be completely answered. In these instances, we must rely on faith in Jesus. But have you ever thought that when it comes to questioning the Lord about eternity that we may be asking the wrong questions? I mean, really thinking about eternal life in the wide spectrum does not consist of making sure our favorite coffee will be available or hoping our dog will meet us at the golden gates.
Eternity is about Him. Until we fix our eyes on Him and ask the right questions there will always be a void. Faith must be the ultimate guide through the thick waters until we freely surrender all earthly possessions.
He came for restoration. He came to defeat sin. He is coming back. Where is your hope today, sisters? Is it in eternal grace or earthly pleasures? With all the faith I have, I cannot wait for an eternal start so beautiful where hurt, pain, and tears are no more yet praise to Him is all we are consumed by.
"Today, as a body of women, let's meditate on and memorize God's word. Not for our own glory or honor, but for the joy of our Father and the growth of His Truth in our hearts."
"Worthy are you, our Lord and God, to receive glory and honor and power, for you created all things, and by your will they existed and were created." Revelation 4:11
Read through Revelations 4 and ask yourself if you are asking Jesus the wrong questions about eternity. Personally, I know at times I am living with the wrong end in sight. As mentioned in this post at the beginning of the year, I Just Want To LIVE OUT LOUD. Contrary to popular belief, no matter how awesome this life is, the next step into eternity will be the best experience ever.
I am linking up today with my sweet friend, Marquis over at Simply Clarke for Faithful Friday! Be sure to check out the other ladies and their encouraging words from the Lord! :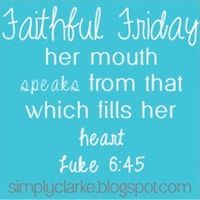 As always, until next time- Happy Blogging!