Since I started the
Wedding Wednesday post series
I have been dieing to blog a post strictly for the purpose of recapping our honeymoon. I love the aspect of this blog that allows me to look back on all the photos and stories of our past. To have this particular post to include in my archive means so much, too.
This post is not full of tips and tricks, as are the Wedding Wednesday posts. However, this post encompasses all that St. Lucia offers and everything that we took the opportunity to experience. More importantly, this post does make me want to be in St. Lucia more than ever before since we left in July!
I hope you will enjoy reading and seeing all of our photos as I relive the moments of the best week of my life with my brand new husband.
Here's to love, laughter, and happily ever after dear friends! :)
Hit play and enjoy! Happy reading!
Our honeymoon was absolutely magical in every way possible. It was a trip that was very much needed after house hunting, working with my family to help Mary Kathryn come home healthy, and planning a wedding in less than 4 months. Our 7 nights and 8 days on the island of St. Lucia were very refreshing, dreamy, full of new experiences, opportunities that many have never considered, love, laughter, sunshine, amazing food, and starting fresh in our relationship after becoming one with the Lord.
Since Tony and I dated almost 7 years before we got married, we had discussed many places that we had both dreamed of visiting at some point in our lives. It ended up being that we wanted to travel to St. Lucia and Key West. Thankfully, he and I have friends who have been to both places and remarked on different occasions that each were "must see" sites! So, d
uring wedding planning, I became completely overwhelmed and asked him to take over with the honeymoon plans. From the get-go Tony Harper was an amazing honeymoon planner! He remembered all of our prior conversations about Key West and St. Lucia. Within a matter of days Tony had just about everything researched, accomplished and booked!
At first, we were planning to drive to Key West on Sunday following our wedding. Eventually, Tony's father said that may not be the best decision since we would be spending so much time in the car instead of in Key West, which was true. In true Randolph fashion, Tony's parents helped him make a few decisions that would work to the very best of our benefit while traveling since we would be on our honeymoon. We will be forever thankful and will always remember how awesome our honeymoon turned out because of their help, love and support.
One day I received a phone call from Tony. He told me to go online and from there we looked and discussed all our options in St. Lucia. All I had to do was say which resort I had rather visit and everything was covered. Our room and board, meals, plane tickets, car, transportation, tours, EVERYTHING you could possible think of Tony had already thought of, tentatively booked, and taken care. It was a huge burden lifted off my shoulders at the time. And, as you know from the post title, Tony and I honeymooned at the Sandals Grande Resort in St. Lucia.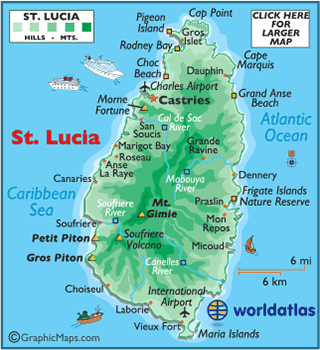 Just a little history should you be interested...
St. Lucia is a
sovereign
island country in the eastern
Caribbean Sea
on the boundary with the Atlantic Ocean. Part of the
Lesser Antilles
, it is located north-northeast of the island of
St. Vincent
, northwest of
Barbados
and south of
Martinique
. It covers a land area of 238 sq miles and has a population of 174,000.
St. Lucia has a legal system based on
British common law. (We were able to use American money while shopping outside of the resort.)
The judiciary is independent and conducts generally fair public trials. Through the years, the island became an independent state of the
Commonwealth of Nations
associated with the United Kingdom.
Although St. Lucia was first colonized by the European French many years ago, the common language spoken by many of the residents is English. Still today, most speak fluent creole, too.
Honeymoon Day 1
We left bright and early at 4:00AM on Sunday, June 24, 2012, heading to the Birmingham airport. Our first plane left at 6:45. It was a jump and a hop to Atlanta. Once we arrived in Atlanta we had less than 30 minutes to find our terminal, check in and board another plane heading for St. Lucia. We arrived in Vieux Fort, St. Lucia, at the Hewanorra International Airport where we were escorted to the Sandals kiosk desk to go through customs and check into our rooms. From there we were transported north across the entire island to the Grande Resort in Gros Islet, which was 1.5 hour from the airport.
Our first day as Mr. and Mrs. Tony Harper :)
This was my first experience to EVER fly. As you can tell, I did not pull out the camera until we safely landed in St. Lucia! To say that I was terrified of flying, would be a complete understatement.
To make things worse, Tony and I actually did not have seats next to each other on the plane ride there and had to sit separately, as did every other couple. It was a first experience that I had to handle all on my own.
When we arrived at our resort, we were greeted with a camera man, wet towels, drinks, snacks, a quick estate tour, and our luggage already laid out in our room.
Talk about fancy, catering, and an all inclusive experience- Sandals is the way to go!
Tony and I were beyond ready to hit the beach, feel the sand between our toes, and smell the sea breeze.
This is the view from our balcony.
There was only four floors to each link of rooms. Then, if you wanted to spend the big bucks you could rent rotundas that were separate rooms on another part of the resort. We stayed on the second floor of one of the linked sectionals.
I absolutely adored waking up each morning to the site of rolling waves and mountains. It was so gorgeous that I could never put it into enough descriptive words.
Our experience was truly grand. I hope that if you ever have the opportunity to experience St. Lucia, you will take advantage of all the opportunities offered between the three Sandals Resorts on the island.
The weather is always the same each time we checked before going to St. Lucia and every time we have checked since we have been home.
Weather wise, their year is divided into a wet season and a dry season. We actually traveled during the wet season. However, we
were lucky and only experienced rain once or twice for maybe 30 minutes at a time. The temperature high is always 88 and the low is always 81. Even better, there is never humidity!
Pigeon Island was directly across from our resort as you can see in the photo below. As I mentioned above, there are three Sandals Resorts in St. Lucia. We stayed at the largest, more young adult Sandals Resort, the Grande. On the other side of Pigeon Island is the second Sandals Resort on the island of St. Lucia, the Halcyon. There is a third Sandals Resort on the island called La Toc.
Something that we loved so much about St.Lucia was the aspect they called "Stay at 1, Play at 3" which allowed guests to freely travel via Sandals bus between each resort.
We were able to see what different foods were offered at all of the restaurants, experience different tours, site see the island, and experience the different night life, bands and more.
In the photo above you will see Fort Rodney. It was once a battle ground.
Once we were introduced to our rooms, changed clothes, hit the beach, and enjoyed the sunset, we decided that it was probably time to go find some place to eat our first meal since the day before our wedding.
We did not really eat a meal wedding day, as we ran out of time and had to snack here and there. Since we left so early on Sunday there was nothing open to eat at in the airport. Then, on our second plane ride we ran into bad weather and could not be served snacks. Needless to say, we were starving for real food!
If I remember correctly, there were 7 or 8 different places to eat on our Resort. Most were open at all times during the day, although some places only opened for certain meals.
It was so nice to be able to walk into a restaurant and sit down. We could order as many appetizers, entrees and desserts as we liked. Then, when we were finished we could leave as we pleased. We never had to carry around money, just our camera.
It was SO nice to not have to worry about the money aspect of life each day.
We decided to go to the Irish Pub, figuring that it would be good and quick. (Sorry, no photo!)
Honeymoon Day 2
When you are on your honeymoon you take a lot of photos that will have arm shots. (Please excuse those.)
As Newlyweds, Sandals treats you to one morning of breakfast in bed. We decided to take advantage of this opportunity the first morning we spent on the island, as we had excursions planned every other day.
While all the photos of the resort and grounds are absolutely breath taking, they do not give enough credit to the beauty of the island itself.
Everything was amazing- the smell of the plants and flowers, the color of the water, the people, the food, the weather... We adored and loved every single minute!
We spent the first full day of our honeymoon at the Grande Resort learning where all of the restaurants where located, what dishes were served at each and what activities were offered to participate in during the day.
We decided to sign up for a few more tours after our newlywed breakfast, did a little wind surfing and then spent the rest of the day on the beach soaking up the sunshine life in paradise.
We decided to be beach bums, staying on the beach for lunch. We skipped the fine dinning experience and started the second meal of the day at Barefoot By The Sea.
This restaurant turned out to be one of our favorites while staying at the resort.
We stayed on the beach until after sunset. That evening we experienced the Gros Islet arts and crafts show. We actually bought a few honeymoon keepsakes and treasures to take back to the states for our parents and siblings.
Then, we had dinner at one of the fine dinning restaurants. We are not really fine dinning people. It was an awesome experience, but it was a bit awkward for us at first. After the third night, we finally got the hang of things.
Honeymoon Day 3
This is Marigot Bay.
Day 3 did not start off so well. We had planned to go on a group excursion with the Sandals tour team. We were supposed to meet this group and our bus driver in the lobby at 6:15. We knew that it was a possibility that we would be gone all day and were too busy cramming down breakfast that we lost track of time. Tony and I rolled into an empty lobby at 6:17 and happened to be the only couple left.
Eventually, one of the desk clerks noticed that we were dressed for the Piton excursion hike, not the beach. He proceeded to ask if we were part of the morning excursion. After telling our story, the man said that it was the bus driver's first day and in the midst of anxiety and nervousness, he forgot to call roll before he loaded the bus and left, therefore we were forgotten.
The Sandals staff actually called for a private tour guide and transport! How convenient? These people will caterer to your every need! We were not able to get our money refunded and had trips planned for the rest of our trip so they did all that was in their power to get us to the Pitons.
We actually were not the only couple left out. The driver also forgot another couple that was staying at the Sandals Resort, the Halcyon. We picked them up on our way and then started our day.
The banana is one of two best grown commodities on the island. Our tour guide showed us how the banana is grown and what measures are taken to ensure that is gets to the villages for proper sale without handling damage.
Our driver was very personable. He taught us a lot about the island history, education system, political system, people, animals and much more. He had lived in St. Lucia his whole life and knew where all the best stops where along the way to the Piton's for our hike.
As you can see in the photo above, he gave us a tour of the Banana Plantation.
Then, we visited Anse La Raye, which is one of two of the largest fishing villages on the entire island.
He stopped at a local bakery and treated us to the most wonderful bread we had ever tasted.
This bakery was not really a bakery. It was actually the home of a friend who cooked inside her kitchen and sold the goods to the public. It was her own of making a living.


We stopped to have a Kodak moment in front of Petite Piton and Gros Piton.
The Pitons was actually were we were headed to hike.
Gros Piton is almost 3,000 feet above sea level.
We hiked Gros Piton. It was a 2 mile hike to the top and 2 miles back down.
Now, I am not sure what in the world possessed us to want to "hike a mountain" on our honeymoon when we do not hike in real life at home. Yes, we like to be outdoors most of the time, but I will admit that hiking is not our forte, which you will see in the following photos.
When we arrived and met our tour guide we were given two bottles of water each. We were showed a tangible map of the mountain and what it would take to climb to the top and back down in 5-7 hours.
We were told there would be four quarter points. The first two quarter points would be accessible on foot. We were allowed to only drink 1/2 of one bottle of water between these two points.
After the second quarter point, it was all or nothing. There was no turning back. The third and fourth quarter points were assessable by hand and knees, meaning we crawled for an entire mile, y'all.
In the photo below we are at our second quarter point. That is Petite Piton behind us.
Petite Piton is only for the advanced climbers who have hiking knowledge of roping. That was certainly not us and we did not travel all the way to St. Lucia to attempt death. But, I think we may have came close at certain times during this tour.
I think I experienced my first heart attack at 21 years old. After the second quarter point, Tony did not speak a word. He only nodded his head when the tour guide asked if we were okay. There were no words for how tired we became and how badly we realized we were out of shape.
The views between quarter point one and two made all the difference. By the time we got past the second quarter point we could not see anything but the rainforest plants, cactus and the rocks we were crawling over.
We made it to the top.... ALIVE! Sorry there is no picture for the third quarter point. It started raining on us in a midst fashion because of precipitation since we were so high above sea level. Plus, I think if we would have stopped for a Kodak moment, it is highly possible that we would have not been able to crawl to the top.
As you can tell in the photo below, we were totally worn out. After climbing 2 miles for almost 2.5 hours we were able to view the entire island of St. Lucia and the closest island across the sea, St. Martin. Supposedly, on the days that are more clear you can see another island, too.
Will we ever hike a mountain again? No, no, no! Are we grateful for the opportunity to hike one of the most famous mountain in the West Indies? Of course.
On our way back to the Sandals Grande, we stopped in Canaries. Canaries is the capital of St. Lucia. This is the only place on the entire island where cruise ships dock and all imported goods are delivered.
This part of the island also is the second home for people of status, such as Oprah, Mick Jagger and George Foreman. Also, Dr. Doolittle and Superman II were filmed in this area of St. Lucia.
Sandals set up a crib lunch for us at La Haut Plantation.
I was not a big fan of eating food while away from the resort, especially meat. For this particular meal we were served two meats and mainly fruits and vegetables. The fruits and vegetables were delicious. According to Tony, who does not eat fruits and vegetables, the meat was tasty, too.
We made another pit stop after lunch to view Hangman's Cove.
Part of The Pirates of the Caribbean was filmed in this exactly location on the island.
If you stay at Sandals for your honeymoon, they offer you and your spouse a free photo session. We took the opportunity to have this done once we arrived back to the resort after our Piton hike.
If you ever have this opportunity, TAKE IT! These are the few pictures that you will bring home without an arm in the photo holding the camera.
We actually ended up buying a CD with all of our images, which we have thoroughly enjoyed sharing with our parents and grandparents.

After our photo shoot there was a beach party serving BBQ dinner. We headed on down to the beach to have dinner. Then, we made our way to the dance floor where there were fire twirlers and a drum band performing late into the night.
We started day 4 just as early as day 3. However, this time we were not late getting to the lobby and we were not left at the resort.
We started the Land and Sea Excursion on a large tour bus at our resort headed to Marigot Bay.
Then, we went shopping in Canaries. Our third stop was at the fishing village of Anse La Raye. (All of these places we visited the day before with our private guide as mentioned above.)
This is how close the market and homes were to each other in each village. The market is on the left. The homes are on the right.
After shopping at the market, we loaded back up and then made another stop at the St. Lucia Botanical Gardens. This was not all too exciting for us on paper when we did our prior research when booking the tour. However, once we stepped out of the bus and walked into the gates we were thoroughly glad that it was part of the excursion.
The exterior of the island is bordered by ocean and beach. The interior of the island is a rain forest, which is shown in the photos while at the Botanical Gardens.
Our next stop was at Diamond Waterfall which flows from Sulfur Springs.
Then, we toured the only drive in volcano known to man as of now. There was not much to see but it was an interesting focal point. This volcano was once active and is part of Diamond Waterfall that flows into Sulfur Springs as noted in the photo above.
At this point during the tour we were allowed to choose between viewing the volcano or taking a mud bath in Sulfur Springs. Tony and I decided to take a mud bath.
The volcano smelled of rotten eggs, which supposedly benefited your health by 3 years. The mud bath supposedly benefited your health, skin complexion and "honeymoon glow" by 10 years.
You better believe I hope we live an extra ten years just because of that mud bath!
It actually felt like clay instead of mud. It did have an odor, but not nearly as bad as the volcano.
Once our entire bodies were painted with the clay we were allowed to get into this boiling bath that was 103' to wash the mud off. It felt like a hot tub, but better.
In the end, we had mud everywhere. Even after the boiling bath, I am pretty sure we took some mud back with us to the resort.
After a few hours we both noticed that our skin felt smoother, which was a positive after effect. But, I am allergic to sulfa products and my skin quickly broke out in hives the following night. It was lovely
.
Our Land and Sea Adventure Tour ended with a ride on the Catamaran.
We arrived back at the Sandals Grande Resort via the Catamaran.
That night we went to the Sandals Resort, the Halcyon for another fine dinning experience.

Honeymoon Day 5
We actually slept in this morning and had a late breakfast.
We had a catered lunch at the pool and then went on a Super Snorkel Tour in Soufriere.
This was my first experience to snorkel and to be honest, I have no desire to go again. It was a beautiful experience and I loved seeing all of the sea creatures, arrays of fish and plant colors, star fish, and conk shells. But, I did not care for the sand snakes, octopuses, squid or sea horses in the least bit.
On the contrary, Tony had a blast! Actually, he had so much fun that we went on the Super Snorkel Tour the following day, too.
It is hard to tell, but in the photo below you can see some of the Sandals Resort, La Toc. We almost decided to stay at La Toc. It is actually built in the mountain. It does not have direct access to the beach from the rooms. We both love the beach and really wanted that aspect. Thankfully, it was offered at the Grande.
I am not sure if you have noticed, but most of the homes and villages are built into the mountains similar to the photo below. The architecture culture was very different from what we are accustom to in the south United States.
We actually were able to snorkel at Hangman's Cove while on the Super Snorkel Tour.
We ended the evening at another fine dining restaurant at the Grande.
Later on that night there was a chocolate bar party that we attended. Sadly, I did not take any pictures. Just to give you a visual image, there was loud music, chocolate fondue for fruit and cheese, chocolate fountains, chocolate cake, chocolate ice cream, chocolate drinks and so on. If it is chocolate, it was there.
Everything we tried was delicious and heavenly, just as chocolate should be!

Honeymoon Day 6
We started the day touring Fort Rodney and Pigeon Island, two landmarks associated with the Sandals Grande Resort.
We had to hike to the top of each fort, of course. The views were spectacular! And, this time it was a sunny day so we could see for miles!
In some of the photos below you can see the two peninsulas bordering the Sandals Grande Resort.
The historical significance behind these two battle grounds dates way back in time. Some of the bunkers remained, as well as cannons and historical remnants that are no longer moved.
Tony is really into history, which made the tour all the more enjoyable for me! He was able to explain things on my level, instead of like a boring history book.
Supposedly, the French were the first European colonizers of the island. They signed a treaty with the native
Carib
people in 1660.
England
took control of the island from 1663 to 1667.
In ensuing years, it was at war with France 14 times and rule of the island changed frequently (it was seven times each ruled by the French and British). In 1814, the British took definitive control of the island. Because it switched so often between British and French control, Saint Lucia was also known as the "
Helen
of the West Indies".
We spent the afternoon snorkeling again.
Then, had a low key dinner back at our favorite place, Barefoot By The Sea.

Honeymoon Day 7
On our last day, we decided to spend the entire day and all three meals at the pool. It could not have been a better way to waste the day together.


We learned from the locals that if you do not have a room service butler to claim your chairs and towels personally, then
you should arrive extra early to grab your spot.
As you can tell, we were the first people out that morning!
We participated in a few of the pool party games, coconut bowling on the beach and dance offs. This was another aspect that we loved about Sandals: Even if we did not leave the resort for an excursion, there was always something going on for us to participate in if we wanted to be active while at the resort.
After lunch we tye-dyed t-shirts for the St. Lucia reading foundation, which is close to my heart since I am an education major. I have always been a huge fan of books and have a passion for reading.
For dinner on our last night in St. Lucia, we threw in the towel and rented a cabana for a white gloved butler served candlelight dinner. If you ever have an opportunity to experience something similar to this, do it. Do not think twice. This was one of the best experiences we had while in St. Lucia. Tony and I are not high maintenance people, but every now and again it is nice to treat yourself if you have the chance.
In the same way that the fine dinning experiences worked, the candlelight dinner was very much the same. Only, Tony and I were able to feel more comfortable and laid back because we set the tone for the evening instead of a waiter serving multiple tables at once, as in a restaurant.
We had dinner on the beach and were able to pick what we wanted to eat based on a five different offerings for each course.
We were able to chose particular flowers, drink specials, table colors, dessert, and had our own personal menu made as a keepsake. To end the meal, we had a photographer take our portraits at sunset. Those photos actually turned out to be some of my favorites!
It was a beautiful evening! I am not sure that we will ever experience another similar.

Honeymoon Day 8
On day 8, our final morning at the Grande, we woke up early in order to eat breakfast and have our luggage ready for transportation. It left before we left so we had to be finished getting dressed at a certain time.
We did not want to go back to our room after breakfast since our time on the resort was limited. So, instead of whining about leaving we took the opportunity to say our goodbyes to our favorite locals and grab those last few Kodak moments.
As you can tell in the photos below, I was a bit more camera happy and content with the plane ride while heading home to America.
Did you know that planes travel faster than 502 miles per hour? I did not. It was terrifying.
Also, did you know that the temperature outside of a plane can be -56 degrees? I did not. The wings had ice on them!
Possibly, this was the reasoning behind me freezing my butt off the entire way there. On the way home I was more prepared with a sweater, blanket, and the comfort of sitting beside my husband.
It may be 10 or 20 years before we ever get a chance to visit St. Lucia again, BUT we have agreed that no matter what we have to save, it will be a trip that we take one day down the road, childless.
Possibly a future anniversary trip?
As you can tell, we took advantage of every single moment of each day. We experienced the island, the people, the culture and the sites. We knew that we could go to Gulf Shores and layout on the beach. But, in reality, how often do you get to tour the island of St. Lucia and experience life in another part of the world? Not often. We came home feeling more blessed than ever to have a roof over our heads, air conditioner, and food to put on the table. We came home thankful for the opportunity to share life, love, and most importantly- marriage.
We were lucky enough to share a sectional with a man and woman from Arkansas who were celebrating their 50 wedding anniversary together. He and his wife make it a point to go on vacation without their children or grandchildren once a year for their special month. During a 4 hour plane ride you typically learn more about the people around you, which we did. They shared their love story with Tony and I, and we shared our story with them.
As we were going through customs and being welcomed back into America they pulled us aside and said to us, "No matter what you have to do, no matter how hard marriage becomes, never let the honeymoon die" which is completely true.
It is our goal to live a life with a marriage that honors the Lord, each other, our families, and our closest friends. We strive to bring out the best in each other and help the other when one may be struggling. At times we have reminded one another about "keeping the honeymoon alive" through all that we are experiencing. Yes, the first 6 months of our marriage have been wonderful. However, eventually times get tough and leaning on each other and the Lord helps us to get to the next day. I
will admit that we have learned a lot about each other that we did not know before marriage although we dated for almost seven years. Regardless, the things we know now do not change the love and passion we share. Most say the first years is the hardest. If so, I am pretty sure that we will conquer all that is thrown our way during the next 6 months. If you wanna see where we are after the first six months of marriage, I blogged about it HERE. Finally, here is a post if you want to read more about 2012: Our Year In Review.
As corny as it sounds, remember to fuel the fire and continue to let the honeymoon live on once the daily struggles of life hit close to home back in the real world.
As always, until next time- Happy Blogging!